News
Moving History trip to Belgium to commemorate centenary of WW1 Armistice
11th Jan 2019
Students in Year 9 from Dover Grammar School for Girls recently visited the battlefields of World War One in Ypres, Belgium as part of their second term studies on the First World War. One of our students describes the highlights of the trip: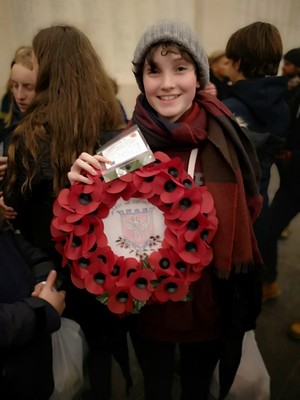 "We started our day early at 6:30am, taking the ferry journey over to the battlefields. I was keen to go on this trip because I was interested in seeing what the trenches actually looked like and finding out more about individual stories of those who died in the conflict and laid to rest. We had done some research before we left, managing to find names of those who died from the same streets as the school.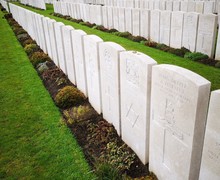 We arrived in Belgium just before midday and visited Lijssenthoek military cemetery. Over 40,000 soldiers were commemorated here but it was also the site of medical clearing stations which used new methods such as x-ray machines and blood transfusions. We even discovered the grave stone of a nurse who died here after an artillery attack.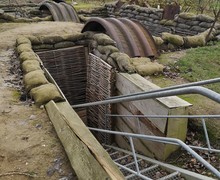 We then moved on to Hooge Crater where a great deal of fighting from the battles of Ypres and Passchendaele took place. We got to walk inside a trench and see it from a soldier's perspective. It was cramped but nothing like the true conditions they would have been through with all the mud and explosions. The nearby museum showed the different types of weapons used, for example this was the first place flamethrowers were used by the Germans.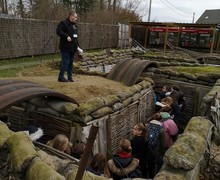 After Hooge we visited two cemeteries; Tyne Cot and Langermarck. Tyne Cot is the largest cemetery in the world to British soldiers and we used our research and homemade wreath to have a service to the fallen here from the Battle of Passchendaele. At Langermarck we got to discover the story of the German students who died here and appreciate the sacrifice and impact of memorials on Germany. Even Adolf Hitler was here in WW1.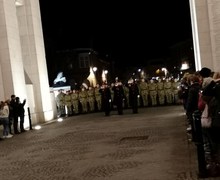 During the evening we visited the beautiful city of Ypres and tried the local cuisine (including chocolates!) before we attended the Last Post Ceremony. It's unbelievable to think this ceremony has happened over 30,000 times now and it takes place every night. Even more amazing was that over 500 people were there on a cold Tuesday night to pay their respects, we even met somebody next to us from Australia. It was a moving ceremony and a poignant way to end a busy day.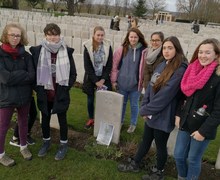 What I will take away from this experience is the huge significance and sacrifice that took place here in the First World War. The day left us all reflecting on how grateful we are for the sacrifice of those commemorated."