News
German Exchange to Köln
19th Nov 2019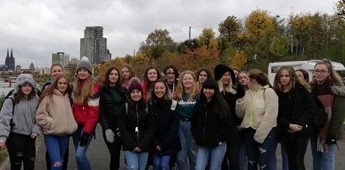 This November Year 10 German students took part in a German Exchange to Köln. Here is what the group had to say about the visit:

We have had a wonderful time in Köln and during our week away we were lucky enough to be able to visit many interesting places and enjoy the fabulous guided tours on offer.

In the WDR (TV and radio station) we admired studios, cameras and spotlights and even witnessed a show being filmed. In the radio recording studio we were encouraged to get rid of our frustrations by screaming as loudly as we could, only to be heard as a faint, distant noise outside the room!

The chocolate museum is always a hit, especially as there was plenty of chocolate on offer. The 'House of History' in Bonn was a huge educational treat and felt nothing like a History lesson! It was like being transported into a different exciting world.

We were given a fascinating insight into Pop Art at the 'Museum Ludwig' and also got to know a little bit more about the beautiful cathedral too.

Then there was the Zoo. It is always such a treat to see the seals being fed whilst performing fantastic tricks. The penguins always delight, and we just loved the giraffes.

A considerable amount of time was spent in our partner school, the 'Ursulinengymnasium' where we got to know our exchange partners a little better and had a lesson about the sights of Köln, which was perfect exam preparation!

This year we were given the opportunity to witness the start of 'Karneval' (carnival) and, as a surprise, two student teachers had prepared an introduction in our honour; something we will not forget! It was great fun as we dressed up, learnt new words and sang carnival songs.
All in all, we had a memorable trip and we all look forward to seeing everyone again in May 2020 when our partner school comes to Dover to visit us.

Student quotes from our trip!

"At first I was so nervous and awkward, as it was a completely new experience, but I really enjoyed getting to know my partner, her family and what her life was like. I loved going to the Köln triangle at the weekend and seeing the beautiful view of Köln. It was so cool and we took a lot of photos and selfies."

"It was very fun and I enjoyed the time with the family. The tours were also good."

"I really enjoyed the chocolate factory and found it interesting."

"My family were really nice and we did lots of fun activities together. The chocolate museum was the best part of the trip because we got free chocolate."

"I really enjoyed the tour around the TV and Radio station WDR."

"I really enjoyed all of the new food I got to try and the interesting sites. It really helped me develop my German listening and speaking."

"I loved the slow development of my partner and I getting more comfortable with each other, to the point of playing games and doing things in town as good friends."

"My favourite part of the trip was going to a pottery café at the weekend."

"I liked trying new foods and also seeing Köln."

"I really enjoyed shopping and the chocolate factory. I feel like, although she (my exchange partner) was better at English, I learnt a lot of German."

"I really enjoyed going to the zoo."

"I liked shopping lots."

"I really enjoyed trying loads of typical German foods because my exchange family took me so many places where I could try it. I also loved when we went to the Hohenzollern Bridge at sunset to take pictures."
"I liked shopping in Bonn and the chocolate Museum was the best part."
"My favourite part was trying all the German Cuisine and getting to know my exchange partner better."
"My favourite part was shopping in Köln and spending the week with my exchange partner getting to know her."