Sixth Form Curriculum
Students at DGGS can choose to follow either a '3+' or a 4 A-level curriculum. The 3+ curriculum enables students to pursue a personalised enrichment pathway (PEP) alongside their three A-levels as an alternative to a fourth A-level.
Students taking the 4 A-level option can further enhance their knowledge and skills by joining an Emerging Talent Work Experience Programme or by participating in Supercurricular Projects. Our curriculum is designed to provide students with the flexibility to build their own personalised two-year programme which is tailored to their individual interests and aspirations.
A-level Options:
Art and Design
Biology
Business Studies
Chemistry
Classical Civilisation
Compuer Science
Criminology (Diploma)
Drama and Theatre Studies
DT Product Design
Economics B (Applied Economics)
English Literature
Film Studies
French
Further Mathematics
Geography
German
History
Mathematics
Philosophy, Theology & Ethics
Photography
Physical Education (Sport Studies)
Physics
Psychology
Sociology
If there are insufficient applications for a specific subject then the course may not be available.
Personal Enrichment Pathway Options (PEPS):
Curricular Options: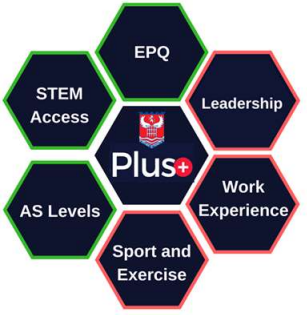 4th A Level
EPQ: (extended project qualification)
STEM Access
Co-teachable AS Subjects:
Criminology
Economics
Film Studies
German
Psychology
Physics
Sociology
Co-curricular options:
Work Experience Programme
A structured programme of career exploration involving interview practice, guest speakers, wider reading, workshops on CV writing and covering letters and a variety of work placements.
The Change Your Mind Programme
A student-led volunteering programme delivering health and wellbeing workshops to Year 6 pupils in the local area. Throughout the year, students have the opportunity to earn Bronze, Silver, and Gold Additional Responsibility badges for tasks which either promote CYM and add to its story or contribute to pastoral care within our school.
Please click here to download an information pack.
Sports Leaders Award (Level 2 Qualification)
Developing skills in leadership and teamwork and enhancing a sense of physical and mental well-being through activities such as football, boxing and gym work.
STEM Access
A programme aimed at easing the transition between GCSE and A Level Science (primarily for students entering on a grade 6 for GCSE Science, but also available for students identified as in need of extra support at the start of Year 12)