News
Eating dripping and dodging doodlebugs – Life in WW2 comes alive for Year 9 DGGS Students
3rd Apr 2019
Students in Year 9 invited in members of the local community to a vibrant question and answer session on life in the home front in the Second World War.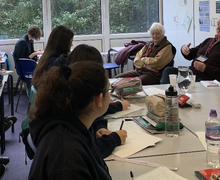 Year 9 had been investigating the significance of aspects of WW2 from the great events of Dunkirk and the Battle of Britain to more social aspects of Anderson shelters and rationing. Joining the school for the morning were Moreen and Peter Folland who lived in Devon in WW2. Russell Bramwell shared his experiences from Aylesham whilst Mavis Atkins brought to life vivid depictions of her experience near London. Natalie in Year 9 who asked a question about Anderson shelters explained what she gained from the experience 'life just seemed so different back then. Living today in a modern world must seem so alien to the life of those that lived over seventy years ago when they seemed to have much less than we do now. They also had the threat of bombs and danger to their family and friends but their spirit in facing this seemed so unique and brave.'
Students will now be completing their notes on the experience to go into a collective newsletter for posterity. The history department would be very excited to hear from any local residents who would like to share their experiences of WW2 and could possibly visit the school in the future to talk with students. Please get in touch with tmillard@dggs.kent.sch.uk if you would be willing to get involved in a future event.