Sixth Form Subject Options
Subjects offered at A level
Sixth Form Options
Art and Design
Biology
Business Studies
Chemistry
Classical Civilisation
Drama and Theatre Studies
DT Product Design
Economics B (Applied Economics)
English Literature
Film Studies
French
Further Mathematics
Geography
German
History
Mathematics
Music
Philosophy, Theology & Ethics
Photography
Physical Education (Sport Studies)
Physics
Psychology
Sociology
If there are insufficient applications for a specific subject the course may not be available.
Entry Requirements
Choosing to join the Sixth Form at Dover Grammar School for Girls will guarantee a rounded academic and personal education. The school provides excellent individual support for each student
The minimum requirement is three 6 grades and three others at a 5 grade.
At least a grade 4 or above in English and Mathematics.
You will require a grade 6 or above in most subjects you wish to study at A Level.
To study Mathematics, Modern Foreign Languages or a Science subject you will require a grade 7.
To study Economics a grade 7 or above in Mathematics is required and a 6+ or above in Business or a related subject.
Students may be able to study a Science subject with a 6 grade but their 4th option choice must be STEM Access forming part of your Personal Enrichment Pathway.
For Further Mathematics you will need an 8 or 9 and this will be your 4th A Level subject.
Photography will also be offered as a 4th A level option.
Short Courses count as half a GCSE.
You will need a positive attitude in your chosen subjects and a respect for school aims, objectives and ethos.
Commitment to the expectations of the Sixth Form and your school community.
Our offer at Dover Grammar School for Girls:
What does the Personal Enrichment Pathway offer:
Curricular Options:
4th A Level

EPQ: (extended project qualification)

STEM Access

AS Subject
Co Teachable AS Subjects:
Criminology
Economics
Film
German
Psychology
Physics
Sociology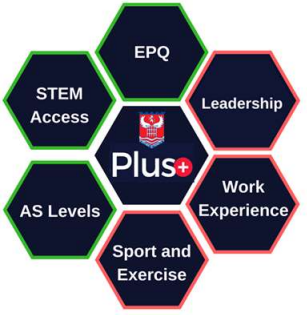 Curricular Electives
Work Experience Programme
A structured programme of career exploration involving interview practice, guest speakers, workshops on CV writing and covering letters and a variety of work placements. Specialised programmes for law, medicine, engineering and teaching in development.
The Leadership Programme
Developing leadership skills through peer mentoring, event planning and reflection in order to excel in a variety of leadership roles, from Lead Prefect to President of the Geography Society.
Sport, Exercise and Recreation
Developing skills in leadership and teamwork and enhancing a sense of physical and mental well-being through activities such as football, boxing and gym work
STEM Access
A programme aimed at easing the transition between GCSE and A Level Science (primarily for students entering on a grade 6 for GCSE Science, but also available for students struggling at the start of Yr 12)
EPQ
Extended project Qualification
Co-teachable AS subjects
Criminology, Economics, German, Physics, Psychology, Sociology